The Good...
Here's a peek at my
International Scarf Exchange
project. I just got started... again. I couldn't decide on the wool, the color nor the stitch. My scarf is going someplace cold so I wanted it to be warm. I have to have it done by the end of the month so I have time to do a little more experimenting.

I've finally finished that silk boucle that I was confused about. I think I've made 3 scarves with it and frogged it twice. This is my own version of Scarf Style's Ruffles scarf. I made it up and, dumb me, didn't write it down.
The Bad...
Remember I told you about the Stashalong I joined a while back? Well, like many of you I have too many odd skeins that I didn't know what to do with. I decided to make this shawl but it turned out to be a disaster really. Firstly, it was too long, like 170 inches too long. Next thing, it just looks odd and finally, I think it is even too ugly to become a magic ball!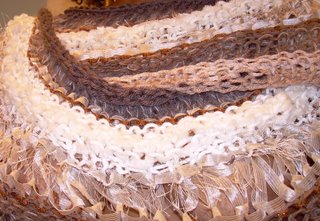 To the frog heap she goes!