I wish I could put the bag outside to dry, if only the dang sun would come out.
I'm not 100% happy with how the bag came out, colors don't always blend the way we felters like. Noro's Kureyon does this the best. I learned from some folks in the Bagaholic KAL group that Patons has a new line called SWS and the colorways blend nicely. There were some mixed reviews on it but maybe I'll try it out for myself on a little project. (Notice how I'm already thinking of buying more yarn in the middle of a zillion other projects I've got going!)
Ok, back to the task at hand, the entire felting process took maybe 30 minutes. This is the result after about 10 minutes in the machine (please pardon the washed out pictures, my laundry room is in the basement and the lighting is pretty stark down there).
To speed the process up I added some boiling water. I also took the bag out of the pillowcase so it could get more agitation. This yarn doesn't have much mohair in it so it shouldn't shed too much more.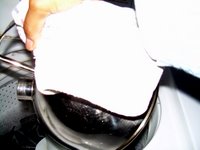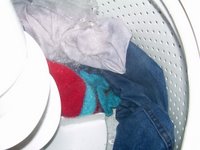 Its getting close but it still needs about 10 more minutes. I've been at this now for 20 minutes.
After 30 minutes of agitation with lots of checking in beween, its about as felted as I want. I'll rinse it with cold water so that I can cool it down to wring out the water.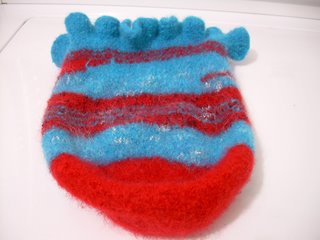 I'm using the jug from my dress steamer as a form (the form should be a bit larger than the project so you'll have to stretch and tug to get it to fit). Drying will take any where from 24-48 hours. I've still got to find my double pointed needles to do the icord. I can dry it in the dryer.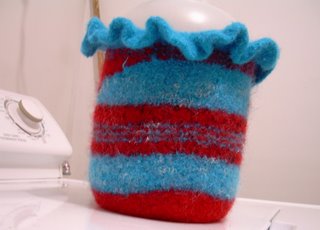 I'm going to need some help from Nikki Epstein, I think I'll knit up a few flowers to make me feel better about this bag. I'll felt the flowers with the icord.